March 7, 2018
BREAKFAST WITH BEN: SUBSIDY FOR THE TAX REFORM CASH TRANSFER PROJECT AND PROJECT DIME
Breakfast with Ben is a weekly informal and  casual discussion of Department of Budget and Management Secretary Benjamin  Diokno with media to talk about the latest news on the budget, economic reforms and government policies. 
DATE:  March 7, 2018
​​TIME: 8:30 AM – 10:30 AM
VENUE:  DBM Executive Lounge, DBM, General Solano St., San Miguel, Manila
SPEAKER: DBM Secretary Benjamin E. Diokno
*Watch the full, unedited press conference below:
This video will be broadcast live on our Youtube channel and website.Got questions for the speakers? Send them through our social media accounts.(Editor's note: The starting time may change due to scheduling constraints.)A higher resolution video of the event will be uploaded after 24 hours.
---
Powerpoint Presentation Used by DOST:
---
Gallery:



---
Press Release:
The Department of Budget and Management (DBM) and Department of Science and Technology (DOST) are collaborating in a program that aims to monitor the status and speed of implementation of government projects, especially those with high value. The program is dubbed as Project DIME, or "Digital Imaging for Monitoring and Evaluation."
Various technologies and expertise on data acquisition developed and acquired by DOST will be used in the program, including Light Detection and Ranging (LIDAR), Open Roads Platform and Geostore, and Geotagging. Satellites and drones will also be used in the program to cover areas which cannot be monitored through LIDAR.
In 2017, DBM and DOST began an initial monitoring of sample projects including DENR's National Greening Program, NIA's National/Communal Irrigation Systems, and DOH's Health Facilities Enhancement Program.
Findings from the monitoring period allowed the DBM to evaluate the status of the projects and to come up with a recommendation to continue or discontinue the funding of a project as well as other actions for the improvement of the project.
DBM has selected the programs and projects that will start to be monitored through Project DIME. These include DPWH's construction/improvement of access roads leading to seaports and airports, DoTR's North-South Commuter Railway (PNR North), DSWD's Conditional Cash Transfer Program, DepEd's Basic Education Facilities, CHED's Universal Access to Quality Tertiary Education, DND's AFP Modernization Program, DILG's Local Governance Performance Management Program, DA's Agricultural Machinery, Equipment, Facilities, and Infrastructures Program, DICT's Free Wi-Fi Internet Access, and DA-BFAR's National Fisheries Program.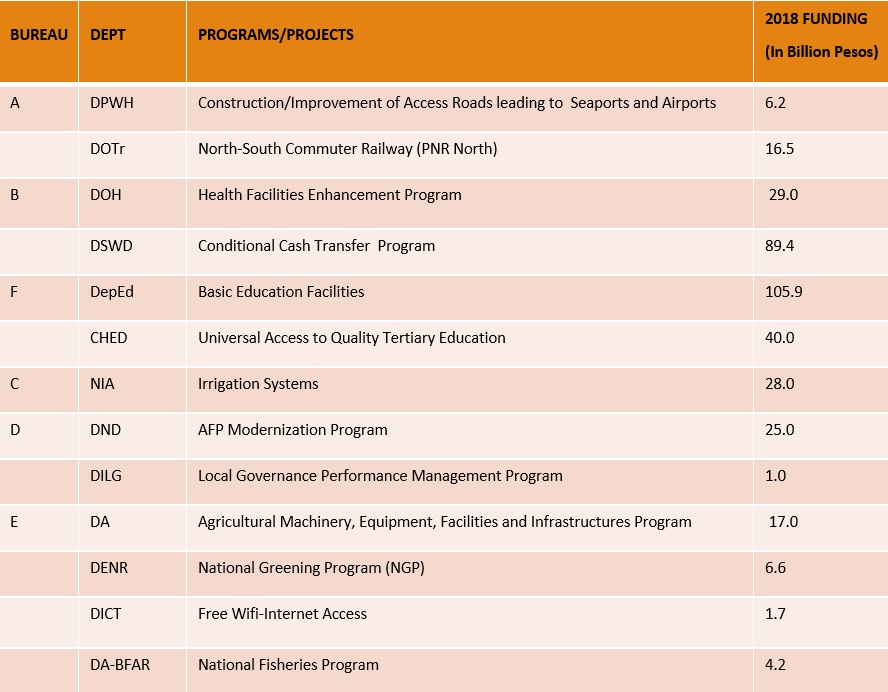 List of Suggested/Selected Programs/Projects to be Monitored
Monitoring of DOH's Health Facilities Enhancement Program, DENR's National Greening Program, and NIA's  National/Communal Irrigation Systems will also be continued.
DBM will add other projects to be monitored in the future, such as those being implemented in disaster-prone areas.
"Project DIME will help ensure that every peso allocated to government programs and projects will be used efficiently and effectively," Budget and Management Secretary Benjamin Diokno said.
---
A total of PhP 24.5 Billion obligation authority, including a PhP 4.3 Billion cash allocation, has been released today by the Department of Budget and Management (DBM) to the Land Bank of the Philippines (LBP) in line with the Tax Reform Cash Transfer Project (TRCT) of the Department of Social Welfare and Development (DSWD). This is the biggest tax reform mitigation program under the Tax Reform for Acceleration and Inclusion (TRAIN) Law. The PhP 4.3 Billion cash allocation shall be used to fund cash grants at Php 200/beneficiary/month to the existing 1,805,801 Pantawid Pamilyang Pilipino Program (4Ps) Cash Card beneficiaries.
The immediate release of the aforementioned funds entitles 4Ps beneficiaries to receive their cash grants within the month. Notably, the entire annual TRCT cash grant shall be provided one-time per year to the intended beneficiaries.
The TRCT seeks to provide cash grants to poor households and individuals who may not benefit from the lower income tax rates but may be adversely affected by rising prices. This mitigation measure will grant cash transfer support to the bottom 50% of households (or approximately 10 million households) identified by the DSWD based on the list of beneficiaries registered in the National Housing Targeting System for Poverty Reduction (NHTS-PR) or Listahan. The subsidy is intended to mitigate the temporary increases in prices owing to the implementation of the comprehensive tax reform program.
For the first year of the TRCT, funds in the amount of PhP 24.49 Billion have already been lodged to the LBP, in accordance with the FY 2018 General Appropriations Act. The LBP shall use such funds for the TRCT in accordance with the Operational Guidelines issued by the DSWD. Upon completion of the list of TRCT beneficiaries, the Unconditional Cash Transfer National Program Management Office (UCT-NPMO) shall transmit the same to the LBP.
The following shall be the target dates for distribution and payment of TRCT cash grants:
| | | |
| --- | --- | --- |
| Class of Beneficiaries | Estimated No. of Beneficiaries | Target Distribution and Payment Period |
| 4Ps Households with existing LBP Cash Cards | 1,800,000 | March 2018 |
| 4Ps Households without existing LBP Cash Cards | 2,600,000 | March 2018 |
| Social Pension Beneficiaries with existing LBP Cash Cards | 400,000 | April 2018 to May 2018 or sooner |
| Social Pension Beneficiaries without existing LBP Cash Cards | 2,600,000 | April 2018 to May 2018 or sooner |
| NHTS-PR Households | 2,600,000 | August 2018 or sooner |
For the second and third year of implementation of the TRCT, the unconditional cash grant will be increased to PhP 300/beneficiary/month. The DSWD shall complete the List of Beneficiaries not later than January 31 of the preceding year, and shall ensure that the distribution of the TRCT cash grants is completed within the first quarter of the year.
# Tweets
Facebook Comments
Photo/s used in this post is/are covered under the Fair Use Exemption of the IP Code.
By posting a comment in the section provided, you hereby agree to:
You acknowledge that Manila Speak is only a platform for your views and opinions and those views and opinions of yours are not necessarily that of Manila Speak.
The comments section is a public forum and you will be considerate and respectful at all times.
You shall not post any defamatory utterances, profanity or vulgar language, anything that is obscene or abusive. You shall not post any false statements, harassing words or threaten a person's safety or property.
You shall not, without consent, post any personal information such as but not limited to phone numbers and email or mailing addresses.
You shall not violate other's intellectual property or proprietary rights.
Manila Speak may or may not review your post but it reserves the right to remove that same if such post may potentially violate the guidelines.
All Rights Reserved. No portion of this site may be republished without permission of the publisher.
---
Speak Your Mind