April 11, 2018
BREAKFAST WITH BEN: 2018 NATIONAL GOVERNMENT DISBURSEMENT PERFORMANCE AND CASH OPERATIONS REPORT
Breakfast with Ben
Breakfast with Ben is a weekly informal and casual discussion of Department of Budget and Management Secretary Benjamin Diokno with media to talk about the latest news on the budget, economic reforms and government policies.
DATE:
April 11, 2018
TIME:
8:30 AM – 10:30 AM
VENUE:
DBM Executive Lounge, DBM, General Solano St., San Miguel, Manila
SPEAKER:
DBM Secretary Benjamin E. Diokno
Issue:
1. National Government Disbursement Performance for January 2018
2. February 2018 Cash Operations Report
* Watch the full, unedited press conference below:
---
This video will be broadcast live on our Youtube channel and website.
Got questions for the speakers? Send them through our social media accounts.
(Editor's note: The starting time may change due to scheduling constraints.)
A higher resolution video of the event will be uploaded after 24 hours.
---
Highlights:
Data from the Cash Operations Report of the Bureau of Treasury show that government spending amounted to P240.3 billion in the month of February for an impressive 37% year-on-year increase. Productive spending for the said month amounted to P204.1 billion while interest payments reached P36.2 billion. Net of interest payments, productive spending soared by 35% in February.
This also puts government spending at P469 billion for the first two months of the year, P95.3 billion or 26% more than the disbursements recorded in the comparable period last year. The spending growth is marginally higher at 27% if interest payments are excluded.
"We are off to a good start for Fiscal Year 2018 and we are optimistic that we will cut down underspending even further from the 2.4% recorded last year, which is net of interest payments," said Department of Budget and Management (DBM) Secretary Benjamin Diokno. "We have instructed the line agencies to implement the 2018 National Budget as if it were a cash-based budget," the Budget Secretary added. "This is why we expect further improvement in the utilization of funds and the delivery and completion of programs and projects," he elaborated.
Total revenues also reached P178.5 billion in February, up by 18% year-on-year, with tax revenues amounting to P163.2 billion and non-tax revenues reaching P15.3 billion. Tax revenues got a significant boost from the implementation of the Tax Reform for Acceleration and Inclusion (TRAIN) Law and the improved collection from the Bureau of Customs (BOC).
For the first two months of the year, total revenues are at P417.4 billion, higher by P65.3 billion or 19% compared to the same period last year.
"The fiscal program of the national government is on track, backed by the strong performance of both government spending and revenue collection," said DBM Secretary Diokno. "The Development Budget Coordination Committee (DBCC) will continue to monitor relevant indicators on the country's finances to ensure that we hit our financial and development targets," he concluded.
For FY 2018, disbursements are targeted to reach P3.313 trillion while revenues are targeted to increase to P2.789 trillion. Furthermore, the deficit target is set at P523.7 billion, equivalent to 3% of GDP.
ANNEX: Fiscal Performance as of February 2018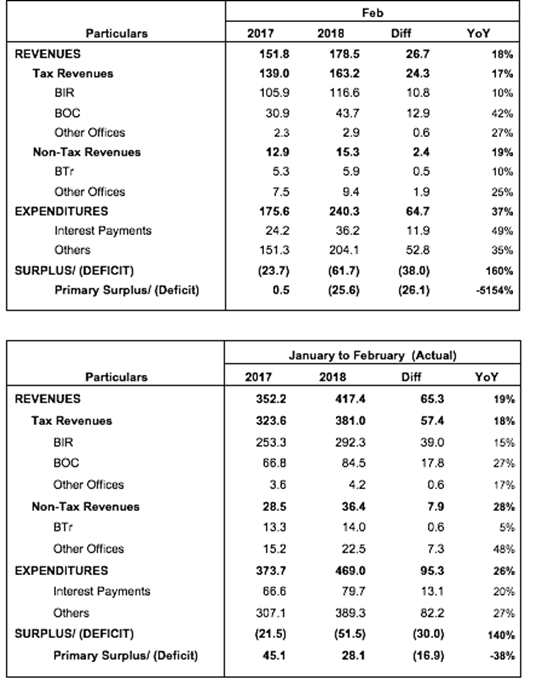 ---
Data on government spending indicate that disbursements soared by 15.5%, year-on-year, for the month of January 2018. Spending reached P228.7 billion in the said month driven by double-digit growth from all major expense items, namely Personnel Services (PS), Maintenance and Other Operating Expenses (MOOE), and Infrastructure and Other Capital Outlays. Infrastructure disbursements, in particular, paced government spending in the said month as it increased by 25.2% year-on-year.
"The strong growth in government spending reflects the reforms we have been implementing in the Budget Department for the past two years," said Budget and Management Secretary Benjamin Diokno. "We have a P3.8 trillion National Budget for FY 2018 and we expect public spending to support our growth objective of 7% to 8% this year, especially with the ambitious Build Build Build Program," he added. "Ultimately, timely and efficient public spending should translate to improved socio-economic opportunities and outcomes for our people," the Budget chief elaborated.
Status of Allotment Releases
 As of end-January 2018, 78.8% or P2.967 trillion of the P3.767 trillion obligation program has been released. This is an improvement from last year where only 65.7% of the P3.35 trillion budget was released in the same month.  The quicker release of funds is attributed to the GAA-as-Allotment-Release Order policy of the DBM. This makes bulk of the funds available to the line agencies as early as the first working day of the year, enabling them to immediately execute their programs and projects.
Some P800.2 billion of the entire obligation program is still available to agencies, most of which are lodged in the Special Purpose Funds (SPFs). These program balances will be released to agencies upon submission of a special budget request supported by complete documentary requirements, as well as compliance to other conditions as may be specified in the FY 2018 General Appropriations Act (GAA).
Drivers of Spending Growth
Spending grew by 15.5% in January 2018, largely driven by disbursements for Infrastructure and Other Capital Outlays. Infrastructure spending reached P43.3 billion, surging by 25.2% year-on-year, in the month of January on account of completed projects by the Department of Public Works and Highways (e.g., construction of school buildings, flood control and mitigation projects, and Lahar control works in Central Luzon); and purchase of communication equipment as part of the Department of National Defense-Armed Forces of the Philippines (DND-AFP) modernization program.
Personnel Services spending registered at P61.9 billion, increasing by 22.4% year-on-year, primarily due to the higher base pay of military and uniformed personnel as well as the third tranche implementation of the salary adjustment for civilian government employees.
Meanwhile, maintenance expenses amounted to P34.1 billion, growing by 19.6% year-on-year, owing to the higher allocation for the social services sector this year.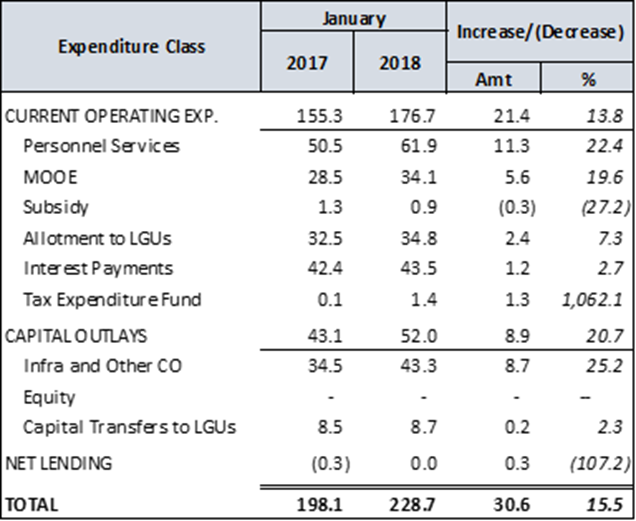 ---
#MSKapihan Tweets
Photo/s used in this post is/are covered under the Fair Use Exemption of the IP Code.
By posting a comment in the section provided, you hereby agree to:
You acknowledge that Manila Speak is only a platform for your views and opinions and those views and opinions of yours are not necessarily that of Manila Speak.
The comments section is a public forum and you will be considerate and respectful at all times.
You shall not post any defamatory utterances, profanity or vulgar language, anything that is obscene or abusive. You shall not post any false statements, harassing words or threaten a person's safety or property.
You shall not, without consent, post any personal information such as but not limited to phone numbers and email or mailing addresses.
You shall not violate other's intellectual property or proprietary rights.
Manila Speak may or may not review your post but it reserves the right to remove that same if such post may potentially violate the guidelines.
All Rights Reserved. No portion of this site may be republished without permission of the publisher.
---
Speak Your Mind